Learn about the types of ancient Greek coins from before Alexander the Great to the Roman control of the region
https://www.youtube.com/watch?v=yE7FiwphBOY
This video is designed for the people that may be interested in collecting ancient Greek and Roman coins from Macedonia, either as a Kingdom, Region or Province. Explored in this article and video above is a selection of various cities and kings from Macedonia that I have in my collection available for sale in my eBay online coin shop. My goal is to cut years off the learning curve in collecting ancient coins by making informative videos, and when people learn about the wonder, I can help them get the coins they want, being a win win for everyone. Please share this article, thumb up the video when you watch it as it will help others find it, as the artificial intelligence of search engines picks those things up. Enjoy!
---
Macedonia or Macedon was an ancient kingdom on the northern periphery of Classical Greece and later the dominant state of Hellenistic Greece. It was ruled during most of its existence initially by the legendary founding dynasty of the Argeads, the intermittent Antipatrids and finally the Antigonids. Home to the Macedonians, the earliest kingdom was centered on the northeastern part of the Greek peninsula, bordered by Epirus to the west, Paeonia to the north, the region of Thrace to the east and Thessaly to the south. Read more here: http://en.wikipedia.org/wiki/Macedonia_(ancient_kingdom) 
The Roman province of Macedonia was officially established in 146 BC, after the Roman general Quintus Caecilius Metellus defeated Andriscus of Macedon, the last self-styled King of the ancient kingdom of Macedonia in 148 BC, and after the four client republics (the "tetrarchy") established by Rome in the region were dissolved. The province incorporated ancient Macedonia, with the addition of Epirus, Thessaly, and parts of Illyria, Paeonia and Thrace. This created a much larger administrative area, to which the name of 'Macedonia' was still applied. The Dardanians, to the north of the Paeonians, were not included, because they had supported the Romans in their conquest of Macedonia. Read more here: http://en.wikipedia.org/wiki/Macedonia_(Roman_province)
---
---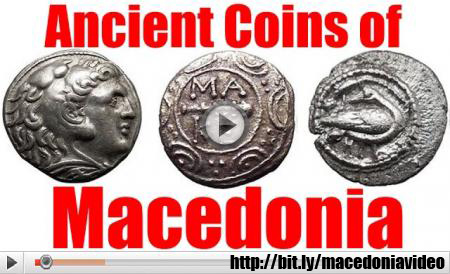 Ancient Macedonia Greek Roman Coins Guide and How-To by Numismatic Expert Dealer for Sale eBay
---

Download this article by right-clicking here and selecting save as
Article by Ilya Zlobin, world-renowned expert numismatist, enthusiast, author and dealer in authentic ancient Greek, ancient Roman, ancient Byzantine coins and beyond.
For more great articles and videos on ancient coins, visit, http://www.trustedancientcoins.com/articles/ or Click here to see all of my EDUCATIONAL COIN VIDEOS
---